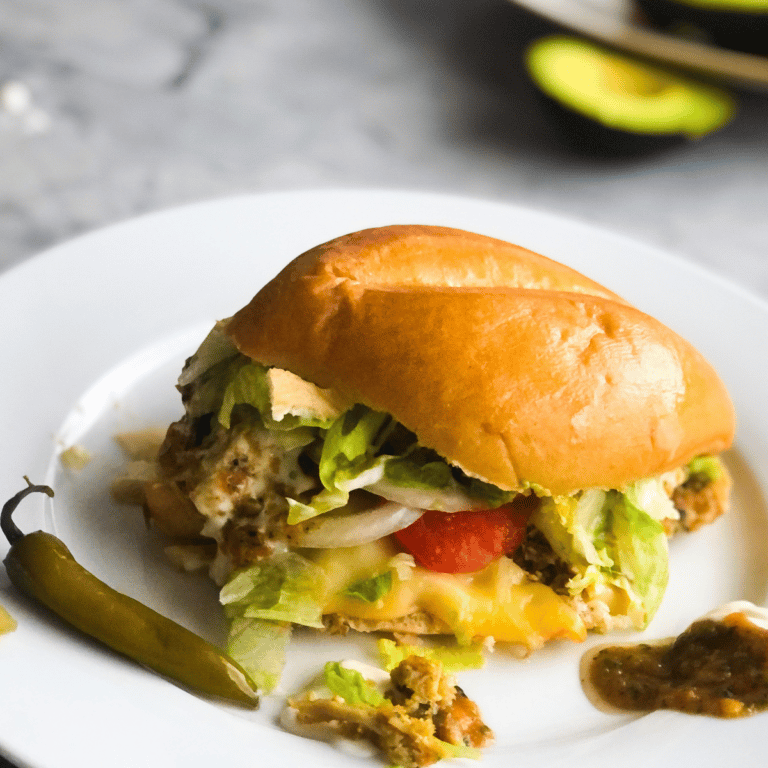 Turkey Torta Mexican Turkey Sandwich
Chopped turkey leftovers, seasoned and sauteed piled into a Mexican sandwich!
Ingredients
2

lb

Turkey

chopped

6

Bolillo Bread

1

White Onion

chopped

2

garlic cloves diced

diced

2

Tbsp

Pork Lard

24oz

Refried Beans
Turkey Seasonings
1

Tbsp

Adobo Seasoning

1

Tbsp

Cumin

1

Tbsp

Meat seasoner (we like Dash original)

1

tsp

Salt
Toppings
1

Shredded Lettuce

3

Roma Tomato

sliced

1

White Onion

sliced

1

jar

Pickled jalapeños

3

Sliced Avocado

1

jar

Crema Mexicana

1

jar

Salsa Roja
Instructions
Preheat oven to 350 degrees.

On a hot skillet, sauté diced onion over olive oil or pork fat; when translucent, add garlic.

After a few minutes, add turkey & spices and combine thoroughly. When mixture is aromatic, lower heat and turn off after 2 minutes.

Warm your refried beans of choice in a separate skillet.
Torta Sandwich Assembly
Carefully cut bolillo breads on the side. Lightly butter top and bottom.

Gently spread beans on the bottom layer of each bolillo bread.

Place a spoonful of turkey meat over the beans and cover with cheese.

Bake at 350 for 5-7 min or until cheese melts.

When tortas come out, spread Mexican crema on the inside of the top of bolillo bread.

Have your assembly line of toppings ready. When toasty tortas come out of the oven, customize tortas with preferred toppings. I like my torta piled high with all the things!

Serve with your favorite fries
In true Mexican-American tradition, my family participated in a traditional Turkey dinner the day of Thanksgiving, with all the usual mayhem: The kids with assigned chores; The disinfecting of every surface of the kitchen so my dad could take over turkey time. My mom would get out her special tablecloth, china, and holiday goblets. At the end of the day, we'd all get dressed up and celebrate. Not sure why we dressed up. Most years it was only us. I suppose it was necessary for the yearly timed, picture my dad would set up.
My parents would make all the traditional staples: turkey, gravy, corn and green beans, and of course mashed potatoes. It was a delicious meal, but my favorite part however, was knowing that even after the great feast, we got to look forward to the Thanksgiving torta.
The day after Thanksgiving was unofficially, official Torta Day in my house! Torta de Pavo. A Mexican turkey sandwich. The turkey tortas my mom makes are so delicious, so comforting, dare I say it rivals the entire Thanksgiving meal?! Ok, that's going far but if you make these, you'll see why it's such a delicious tradition and how Chad's family has grown to welcome this torta tradition! .